We've joined eight other library systems in central Ohio's largest book club.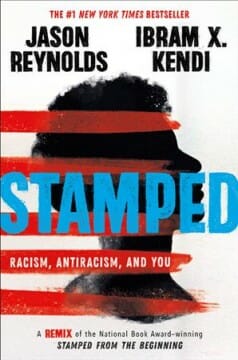 We're encouraging families, friends and co-workers to read STAMPED: Racism, Antiracism, and You by Jason Reynolds and Ibram X. Kendi. This program is designed to cultivate conversations around race and social justice based upon the shared reading experience of the greater Columbus community.
Through the reading of a singular book, the community can reflect together upon the institutional and systemic inequalities that have impacted our community and nation for far too long.
Jason Reynolds' author talk on Jan. 24 concluded our 11-week program.
Virtual Community Book Discussions
Central Ohio community leaders discussed their thoughts and takeaways after reading Stamped and offer reflections on continuing public dialogue around race and racism.
Panelists:
Erika Clark Jones, ADAMH
Lisa Courtice, the United Way of Central Ohio
Dan Sharpe, The Columbus Foundation
Demetries Neely, the King Arts Complex
Panelists:
Dr. Talisa Dixon, Columbus City Schools
Lourdes Barroso de Padilla, City Year, Inc. and the Latina Mentoring Academy
Jose Morales-Crispin, Franklin County Sheriff's Office
Kyle Strickland, Kirwan Institute for the Study of Race & Ethnicity
Scott Woods, Streetlight Guild 
Panelists:
Jordan Davis, Columbus Partnership
Autumn Glover, OSU Wexner Medical Center
Tia Ramey, The Saunders Company
Colin McGinnis, South Side Early Learning
Jonathan Moody, Moody Nolan
Panelists:
Shannon Hardin, City of Columbus
Charles Hillman, Columbus Metropolitan Housing Authority
Densil Porteous, Stonewall Columbus
Lena Tenney, The Ohio State University College of Pharmacy
STAFF PICKS LIFE: RACIAL EQUITY & SOCIAL JUSTICE
Columbus Metropolitan Library staff shared books about the Black experience, social justice, racial equity and history. They discussed great titles for kids, teens and adults.
The Daily Show with Trevor Noah: Interview with Jason Reynolds and Ibram X. Kendi
NPR: A History Book That Isn't: Finding a Way to Teach Racism to a New Generation with Jason Reynolds and Ibram X. Kendi