Mask & Vaccination Required
Celebration of Learning is the library's annual fundraising event and we need you.
With community support, we can adapt our services to meet the changing needs of our customers: assisting our neighbors struggling to find work, supporting students in their efforts to learn and providing access to help narrow the digital divide.
We depend on contributions made to this event to help make our critical work possible, and we thank you in advance for joining us.
Masks are required regardless of vaccination status.
Proof of vaccination or negative COVID-19 test will be required for entry.
Main Library | 96 S. Grant Ave.
The following schedule has also been modified to reduce exposure.
6 p.m. – Doors Open (no cocktail reception, proceed directly to program)
6:30 p.m. – Program Begins (encouraged to leave seat between parties and must remain masked)
8 p.m. – Dinner
• Option 1: Stay for plated meal with full tableside service (masked when not actively eating or drinking)
• Option 2: Leave with a carryout meal
10 p.m. – Event Concludes
Please note: Guests are also welcome to live stream the program and pick up a meal kit from noon – 3 p.m. at Cameron Mitchell Premier Events: 7619 Huntington Park Drive, Columbus, Ohio 43235
All registered guests will receive an important survey link to provide dietary restrictions and participation preferences closer to the event. Should you need assistance in the meantime, please contact col@columbuslibrary.org or (614) 849-1051.
Featuring
Jacqueline Woodson
A highlight of the city's cultural calendar, the 29th annual Celebration of Learning brings together supporters of the library's vision to inspire a thriving community where wisdom prevails. 
This year's event will take place on Friday, November 5 at Main Library, and feature 2020 MacArthur Genius Award winner, Jacqueline Woodson. Woodson is the critically acclaimed author of more than two dozen award-winning books, including New York Times bestsellers, Red at the Bone and Brown Girl Dreaming. Among her many accolades, she is a four-time Newbery Honor winner, a three-time National Book Award finalist, and a two-time Coretta Scott King Award winner. Her talk will surely inspire all as she delves into her own inspiration and the importance of race and gender. 
We hope her powerful portrait of the spirit of perseverance and tenacity spurs your interest for this year's Celebration of Learning.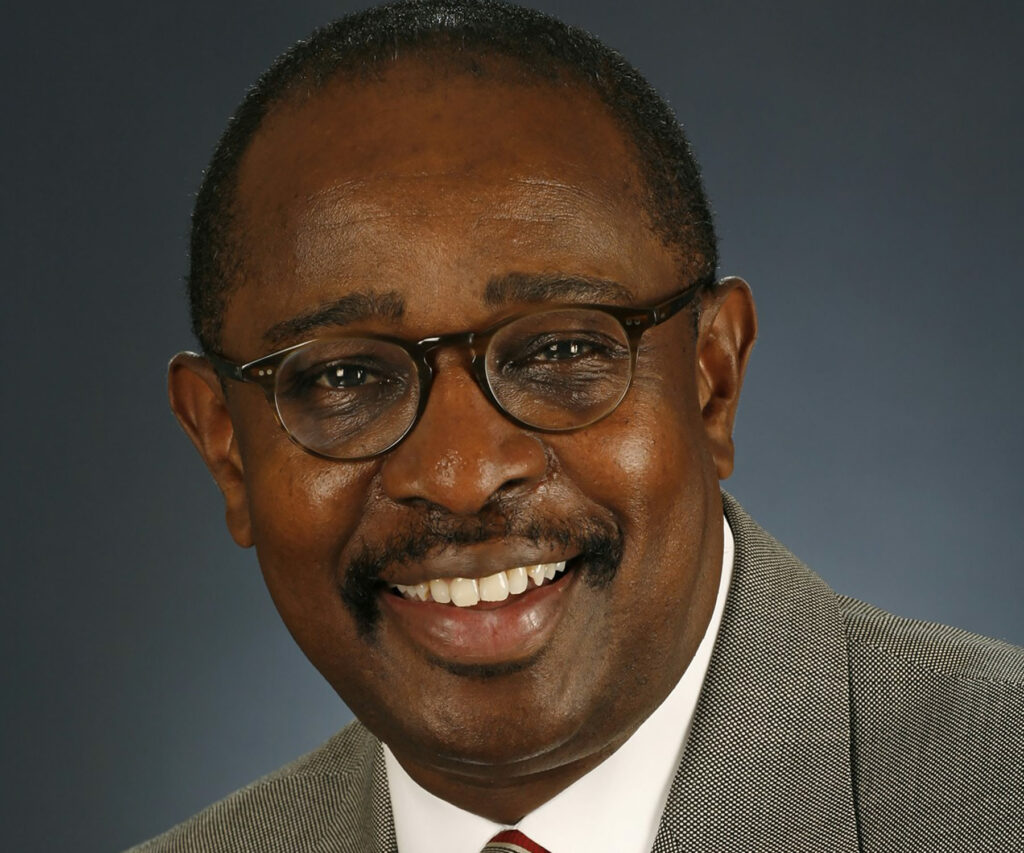 JSS Celebration of Learning Award
Chief Judge Algenon L. Marbley
Chief Judge Algenon L. Marbley is a federal judge on the United States District Court for the Southern District of Ohio. Upon recommendation from Senator John Glenn, President Bill Clinton appointed Judge Marbley to the bench in 1997. Judge Marbley became the Chief District Judge for the Southern District of Ohio on September 14, 2019, becoming the first African-American to serve in that capacity. In his twenty-four years serving as a district court judge, Judge Marbley has presided over some of the most important cases in central Ohio and the country, ranging from voting rights issues to issues involving policing. Prior to serving on the bench, Judge Marbley was a partner at Vorys, Sater, Seymour and Pease, where he practiced civil, criminal, and administrative law for eleven years.
Judge Marbley also remains active in the community. He was a member of the Board of Trustees of The Ohio State University and serves on the boards of the KIPP (Knowledge Is Power Program) School and Nationwide Children's Hospital. The Washington Post adopted one of his statements during a trial as its motto: "Democracy dies in darkness." Chief Judge Marbley is married and the father of two adult sons, one stepson, and three granddaughters.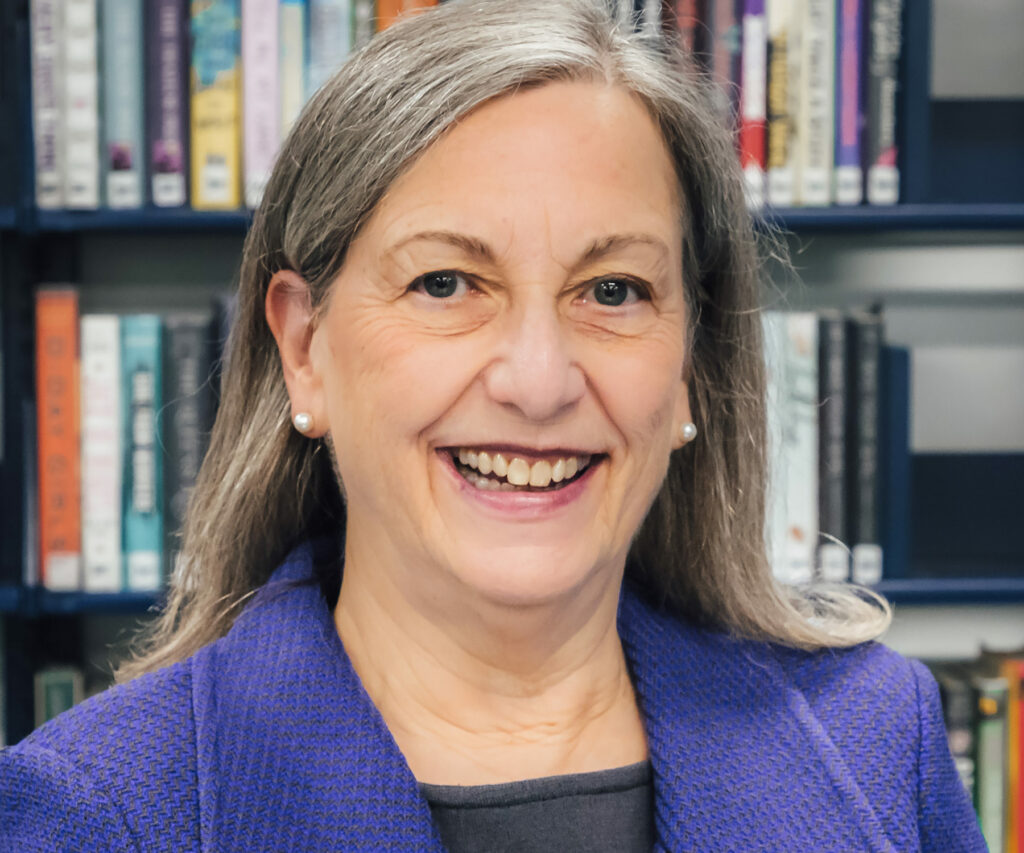 Columbus Metropolitan Library Foundation Award
Lynne was a member of the Columbus Metropolitan Library Foundation Board for almost a decade, including serving as President, Secretary, Chair of Celebration of Learning and a long-time dedicated event committee member. Lynne spearheaded many projects and in particular, her tireless efforts helped develop the Foundation's stewardship and cultivation practices. She was instrumental in helping support Teen Read Week and, along with husband Martyn, has generously sponsored the giveaway of books to participants since the program's inception. Lynne is a tireless advocate and volunteer with the Library, championing its causes and encouraging others to join her in support of this great institution. Lynne is a wonderful ambassador for the Columbus Metropolitan Library and she has truly made a lasting impact in our organization and the community.
Lynne shares, "As a voracious learner, I have spent a lot of time in and volunteering at libraries all over our country. When we moved to Ohio, choosing to volunteer at Columbus Metropolitan Library was an easy decision for me. While I was aware that CML was a world class library, I quickly became incredibly inspired by the CML leadership and employees with whom I had the pleasure to interact. With visionary leadership, the entire CML team is deeply committed to supporting literacy and lifelong learning as a means of providing a gateway to knowledge and opportunity for all members of our community. It has been an absolute privilege to volunteer at this special community treasure."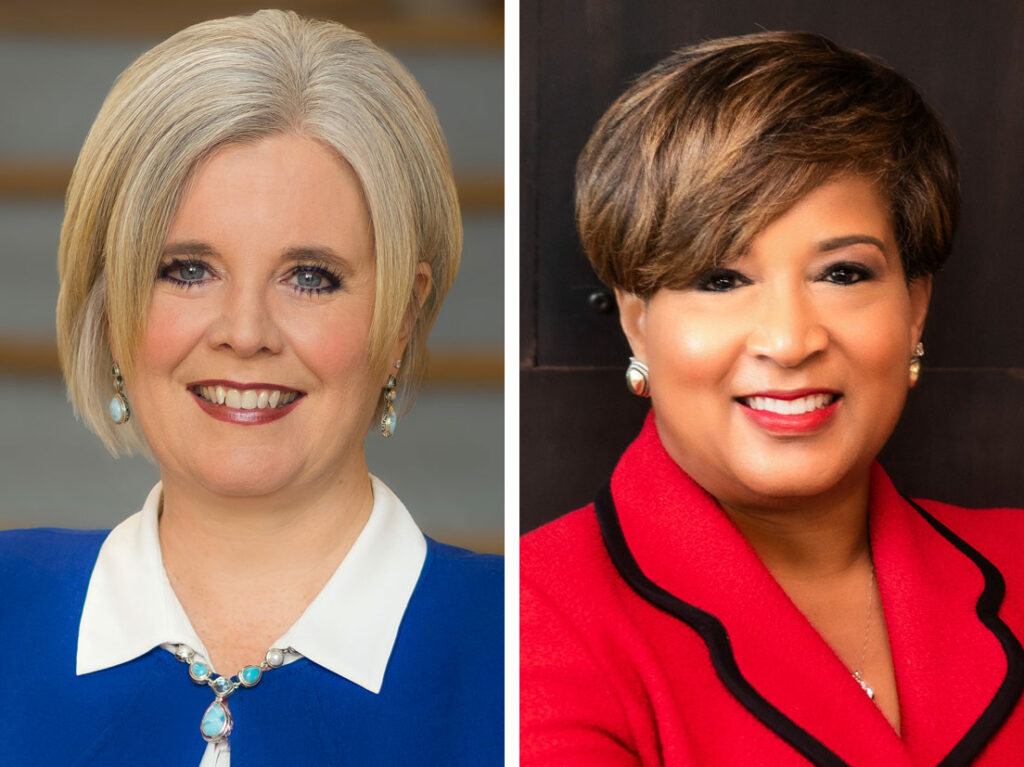 Co-Chairs
Sandy Doyle-Ahern
Renée Shumate
Committee Members:
John Behal
Lauren Bonfield
Barbara Brandt
Tanisha Lyon Brown
Laney Burgdoerfer
Darci Congrove
Mary Jo Conte
Sue Cooper
Melanie DeAscentis
Barbara Derrow
Marjorie Duffy
Scott Gaines
Diane Garland
DeeDee Glimcher
Tracy Harrison
Charlotte Kessler
Patrick King
Wayne Lawson
Vicki Linville
Victoria Losinski
Jennifer McNally
Katharine Moore
Steven Moore
Corde Westwater Robinson
Robin Shockney
Barbara Siemer
Catherine Strauss
Hope Wolman
Ed Yen
Ellen Yen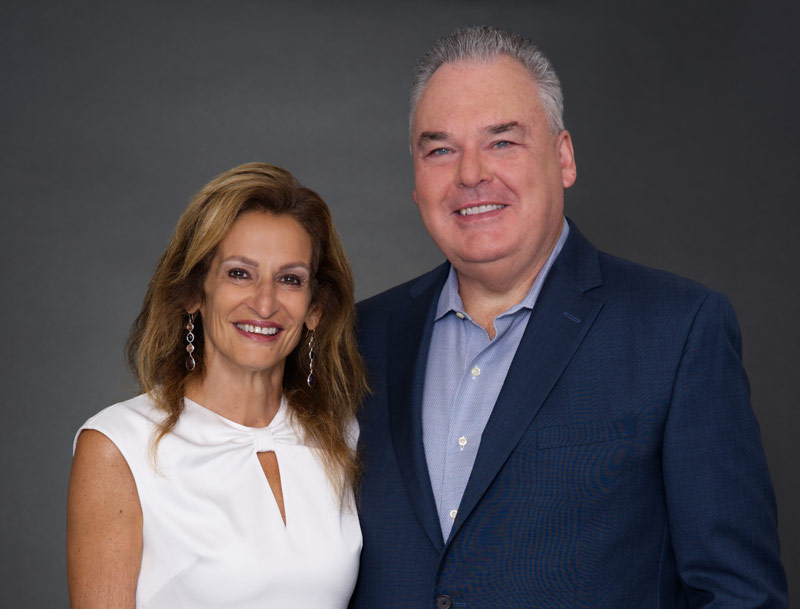 Many thanks to Linda and Mike Kaufmann for serving as Honorary Chairs. Both Linda and Mike have an incredible commitment to our community.
Linda Kaufmann was President of Turn Key Solutions (TKS) before selling her business. Prior to owning TKS she spent her career in the Health Care segment in executive positions within Marketing and Communications. Linda is a visible and active community leader chairing and participating in numerous boards. She is passionate about animal welfare, education and the arts. From the United Schools Network to the Columbus Association for the Performing Arts, she uses her kind, generous nature to advocate for others. As a mother of four, Linda knows all too well the importance of education and reading. In particular, she enjoys reading books about inspiring women and believes it is key to understanding the world around you
Mike Kaufmann is chief executive officer of Cardinal Health, a vital organization in the Columbus corporate landscape. During his 30 years at Cardinal Health, Kaufmann has served in a wide range of executive leadership positions and become known for his creativity and grit. He passionately advocates for diversity, equity and inclusion (DEI) as not only the right focus areas for leaders, but also the smart choice for businesses looking to achieve better performance and increased innovation. He carries his passion for people and results to his service on boards. He currently serves as a member of the board of directors for MSC Industrial Supply, sits on the executive board of Red Oak Sourcing and is a member of the executive committee with The Columbus Partnership.
Thank You for Your Support
ABC 6/Fox 28/CW Columbus
BakerHostetler
BeecherHill
Bricker & Eckler LLP
Cameron Mitchell Premier Events
COTA
Covelli Enterprises
Crane Group
Donatos Pizza
Encova Insurance
Greif
Heidelberg Distributing Co.
Huntington
KeyBank
OCLC
M/I Homes Foundation
The Robert Weiler Company
Stifel Public Finance/Stifel Private Client-The Yen Group Easton
Thompson Hine
Verizon
Vital Companies
Vorys, Sater, Seymour and Pease LLP
Buckeye Interactive
Columbus State Community College
Crabbe, Brown & James LLP
Deloitte
EMH&T
Fifth Third Bank
Fullen Financial Group
GBQ Partners
GUND Partnership and Jonathan Barnes Architecture and Design
Honda
Ice Miller
IGS Energy
Jeni's Splendid Ice Creams
Matrix Psychological Services, Inc.
Moody Nolan
NAI Ohio Equities
NBBJ
New Albany Community Foundation
The New Albany Company
Nicholson Builders, Inc.
Park National Bank
PwC
State Auto Insurance Companies
Worthington Industries
Sandra Doyle-Ahern and Michael Ahern
Marilu and Tim Faber
Lynne and Martyn Redgrave
George Barrett
Pamela and John Beeler
Lauren Bonfield and Stephen Keyes
Katie and Geoff Chatas
The Christopher Foundation
Melanie and Mike DeAscentis
Barbara and Philip Derrow
Rhonda and Charlie Fraas
DeeDee and Herb Glimcher
Linda and Frank Kass
Nancy and Tom Lurie
Deborah Neimeth
Paul Smith, Jr.
Colleen Nissl and Roger Sugarman
Corde Westwater Robinson
John Behal and Jim Elliott
Laney Burgdoerfer
Alison Circle and Riccardo Ruotolo
Mary Jo Conte
Marjorie Duffy and Mike Gladman
Maria and Tim Frommeyer
Carol Andreae and James Garland
Lisal and Don Gorman
Mary and Tom Katzenmeyer
Charlotte and Jack Kessler
Mary Lazarus
Ann and Ron Pizzuti
Lane and John Rothschild
Linda Larrimer and Hugh Westwater
Kathy and Alec Wightman
Marty Anderson
Randy Arndt and Jeff Baker
Ellen and Jim Bachmann
Nancy and Burton Bardus
Chief Chukwuemeka Bosah and Dr. Ngozi Osuagwu
Barbara and David Brandt
Tanisha and Donald Brown
Wendy and Justin Bumbico
Elizabeth and Stephen Cartwright
Darci Congrove
Sue Cooper
Kathryn and Scott Gaines
Diane and Kim Garland
Gregg Dodd
Shaunessy Everett
Christine and Thomas Farquhar
David and Joanne Frantz
Susan and Bill Gillam
Joanne Goldhand and Justin D'arms
Linda and Bill Habig
Amanda and Charlie Hansen
Lauren Hagan and Jim Venetucci
Tracy and David Harrison
Marihelen Hatcher
Rachel and Jim Heine
John N. Larrimer MD
Wayne Lawson and Bill Mitchell
Lexie and Trip Lazarus
Vicki and Ron Linville
Victoria and Patrick Losinski
Bob Loversidge
Cathy and Jeff Lyttle
Jennifer Massanova and Lou Von Thaer
Jennifer McNally and Michael Flamm
Katharine Moore
Jane Mykrantz and Kiehner Johnson
Sue and Mark Real
Kathryne and Kevin Reeves
Anne and Bill Remias
Robert M. Roach
Rosanne and Mark Rosen
Kelly Ruoff and Patrick King
Nikki Scarpitti
Teckie and Don Shackelford
Robin and Andrew Shockney
Renée and Alex Shumate
Laura and Jay Simonds
Lynne and Stephen Smith
Sheila and Gene Smith
Stewart Smith
Nancy Strause
Catherine Strauss and John Lowe
Wendy Tressler
Seanna and Matthew Walter
Beatrice and Alan Weiler
Steve Weiler
Nan Winslow
Hope Wolman
Thomas Young
Donna and Lee Zuiderweg
Columbus Metropolitan Library Foundation is a nonprofit 501(c)(3) charitable organization.
96 S. Grant Ave. | Columbus, Ohio 43215