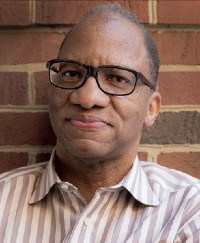 COLUMBUS—Columbus Metropolitan Library (CML) is announcing a virtual viewing option for those wishing to see author Wil Haygood during his upcoming program at Main Library on Sunday, Oct. 24 at 2 p.m.
Haygood will speak in person in Main Library's Reading Room, and CML will also livestream the program on its YouTube channel.
For in-person attendees: Proof of full vaccination or a negative COVID-19 test is required to attend this event. Masks are required to be worn at all times by order of the City of Columbus and Library Board of Trustees.
Haygood is the sixth author to speak as part of CML's fifth annual Carnegie Author Series, which brings engaging national authors to central Ohio.
The Columbus author will discuss his forthcoming book, Colorization: One Hundred Years of Black Films in a White World, which examines 100 years of Black movies using the struggles and triumphs of the artists – and the films themselves – as a prism to explore Black culture and the American Civil Rights movement.
Haygood is the author of several nonfiction books, including The Butler: A Witness to History (2013), Showdown: Thurgood Marshall and the Supreme Court Nomination That Changed America (2015) and In Black and White: The Life of Sammy Davis, Jr. (2003). In 2018, he published Tigerland: 1968-1969: A City Divided, a Nation Torn Apart, and a Magical Season of Healing about Columbus's East High School during the Civil Rights movement.
For nearly three decades, Haygood was a journalist, serving as a national and foreign correspondent at The Boston Globe, where he was a Pulitzer Prize finalist, and then at The Washington Post.
Before the program, in-person and virtual attendees will hear music from the Jazz Arts Group of Columbus's Urban Jazz Coalition, whose performers will play a variety of theme songs from well-known films featured in Colorization. Guitarist Craig "Superfly" McMullen is the featured performer. CML wishes to thank King Arts Complex for coordinating the program's musical guests.
This program is free. Parking is free in Main Library's garage. Learn more at columbuslibrary.org/special-events.
The Carnegie Author Series is sponsored by NBC4.