COLUMBUS—The Columbus Metropolitan Library Foundation (CMLF) has announced Chief Judge Algenon Marbley as the 2021 recipient of the Julian Sinclair Smith Award. Each year, CMLF presents the award to honor inspiring individuals living or working in and around Franklin County with a passion for lifelong learning. The award will be presented at CMLF's 29th annual Celebration of Learning fundraising event on Friday, Nov. 5 at Main Library.
A federal judge on the U.S. District Court for the Southern District of Ohio, Chief Judge Marbley was appointed to the bench by President Bill Clinton in 1997 upon recommendation from Sen. John Glenn. He became the Chief District Judge in 2019, becoming the first African American to serve in that capacity. Prior to serving on the bench, Judge Marbley was a partner at Vorys, Sater, Seymour and Pease for 11 years. He served a member of the Board of Trustees of The Ohio State University and currently serves on the boards of the KIPP School and Nationwide Children's Hospital.
Julian Sinclair Smith was founder of the Sinclair Broadcast Group, owner of WSYX/ABC6 and operator of WTTE/FOX28 and CW Columbus. His rise to prominence in the industry can be attributed to his quest for knowledge, beginning with the completion of a radio correspondence course while still in high school. When he died in 1993, the Smith family chose to honor his passion toward reading, education and lifelong learning, with an award named in his honor presented through the CMLF.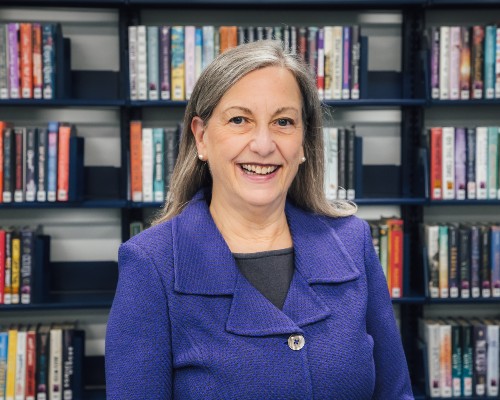 Lynne Redgrave will be honored with the Columbus Metropolitan Library Foundation Award, which recognizes an individual volunteer or volunteers who have had a sustained impact and demonstrated a commitment, passion and dedication to the library and/or its Foundation.
Redgrave served on the CMLF Board of Trustees for nearly a decade. She has been a longtime advocate of Columbus Metropolitan Library, and has been instrumental in supporting and championing library programs like Teen Read Week.
"When we moved to Ohio, choosing to volunteer at Columbus Metropolitan Library was an easy decision for me. With visionary leadership, the entire CML team is deeply committed to supporting literacy and lifelong learning. It has been an absolute privilege to volunteer at this special community treasure."
Redgrave is the fifth person to receive the CMLF Award, which is given periodically to a recipient selected by CMLF's Executive Committee. Fellow honorees include Cindy Hilsheimer (2019), Corde Westwater Robinson (2017), Steve Rasmussen (2015) and Charlotte Kessler (2012).
Celebration of Learning, CMLF's annual fundraiser, will be held at Main Library on Friday, Nov. 5 and feature 2020 MacArthur "Genius" Jacqueline Woodson. The 2021 honorary chairs are Linda and Mike Kaufmann and event co-chairs are Sandy Doyle-Ahern and Renée Shumate. Event proceeds support the library's greatest needs and highest priorities.
Visit CMLF's Celebration of Learning webpage for more information and to register.
Columbus Metropolitan Library Foundation is a nonprofit 501(c)(3) charitable organization that provides financial support for the library's greatest needs and long-range goals through generous private donations, ensuring the library's collections, programs and services will be available for generations of learners to come.