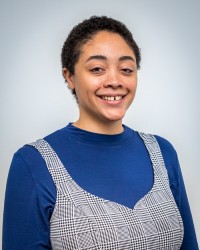 COLUMBUS—Columbus Metropolitan Library (CML) has hired Miya Reyes as permanent manager of its Martin Luther King Branch. She officially relinquishes her "interim manager" title today, Monday, April 19.
A Columbus native, Reyes started at CML in 2019, serving as Youth Services Manager at the Hilliard Branch before transitioning to the Martin Luther King Branch as interim manager last fall.
"Since joining us in 2019, Miya has impressed all who work with her," says CML Chief Customer Experience Officer Alison Circle. "She quickly made an impact, and we're eager for her to continue her work connecting with the Near East Side community."
The previous manager of the Martin Luther King Branch, Keisha Gibbs, recently took a new position as African American Special Collections Supervisor in CML's Local History & Genealogy division at Main Library.
NOTE: Electronic file of Miya Reyes's headshot is available upon request.