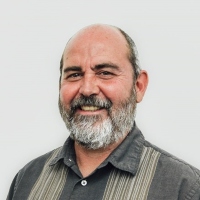 COLUMBUS—Columbus Metropolitan Library (CML) has hired Paul Boyce as manager of its New Albany Branch. He officially began his new role this past Sunday, Oct. 29.
Boyce's CML career began at the Barnett Branch (then known as the Livingston Branch) in 2001. His career later took him to the Gahanna and New Albany branches where he served in various customer services roles, including customer services manager. He has served as interim manager at the New Albany Branch since August.
A Maryland native, Boyce currently resides in north Columbus.
"Paul knows this organization inside and out," says CML Chief Customer Experience Officer Charlie Hansen. "He is also a familiar face in New Albany, and we know he is eager to continue serving this community."
The previous manager of the New Albany Branch, Ryan Burley, left CML in August.
NOTE: Electronic file of headshot available upon request.