COLUMBUS—Columbus Metropolitan Library (CML) earlier today topped out its transformed Hilltop Branch with the final steel beam. The livestreamed event is available to view. This construction milestone marks the topping out of the second project in the second phase of CML's 4-project aspirational building program.
CML CEO Patrick Losinski was joined by project architects Randy Gibson and Bruce Harris from Gresham Smith, and Turner Construction Vice President and General Manager Brian Mooney and Project Manager Dave Brown.
The Hilltop Branch was built in 1996 with 20,000 square feet. When completed, the transformed branch is expected to be approximately 32,000 square feet.
The Hilltop Branch project is part of Phase II, which will renovate or rebuild an additional four locations:
The new Karl Road Branch is expected to open in 2021
The transformed Hilltop Branch is expected to open in 2021
Planning for a new Gahanna Branch has been paused
Planning for a new Reynoldsburg Branch has been paused
CML hopes to have all four Phase II projects completed by 2024.
CML understands that great libraries create stronger communities, and each branch is an essential hub that reflects the unique needs of the neighborhood it serves. Some of CML's 23 locations are 30 to 40 years old and inadequate to meet the demands of a growing 21st century community. Demands and expectations will continue to grow, along with the population of Franklin County.
CML's aspirational building program is the result of a community-wide process that will continue to serve the needs of Franklin County well into the future. The plan is a multi-phased comprehensive blueprint that reinvents and revitalizes the entire 600,000 square feet maintained by the library.
In addition to being a vital community asset, Columbus Metropolitan Library strives to minimize its environmental footprint. With each new building or renovation project, CML plans to use sustainable building materials, incorporate glass for natural light to reduce energy costs and introduce other design and building elements friendly to the natural environment.
Visit columbuslibrary.org for more information and to track progress of CML's ambitious building program.
Visit columbuslibrary.org/press to view other Columbus Metropolitan Library press releases.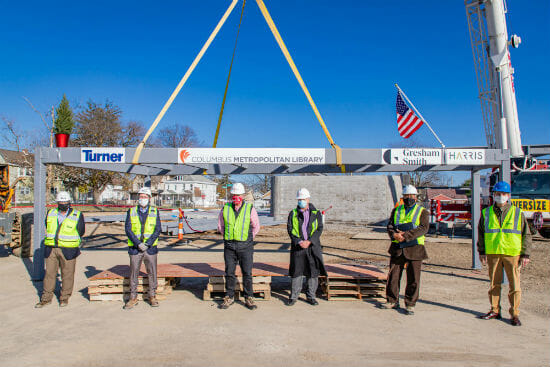 From left: Dave Brown, construction project manager, Turner Construction; Brian Mooney, General Manager, Turner Construction; Patrick Losinski, CML CEO; John Tetzloff, CML Hilltop Branch Manager; Randy Gibson, architect, Gresham Smith; Bruce Harris, architect, Gresham Smith
Hi-res images are available upon request.